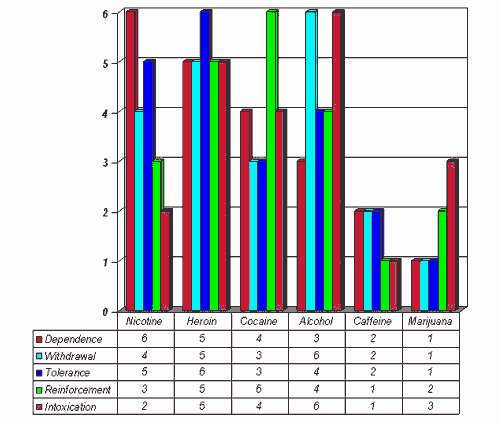 In 1994, for an article in the New York Times, Dr. Jack E. Henningfield of the National Institute on Drug Abuse and Dr. Neal L. Benowitz of the University of California at San Francisco ranked six substances based on five problem areas.
Withdrawal: Presence and severity of characteristic withdrawal symptoms.
Reinforcement: A measure of the substance's ability, in human and animal tests, to get users
to take it again and again, and in preference to other substances.
Tolerance: How much of the substance is needed to satisfy increasing cravings for it, and the level of stable need that is eventually reached.
Dependence: How difficult it is for the user to quit, the relapse rate, the percentage of people who eventually become dependent, the rating users give their own need for the substance
and the degree to which the substance will be used in the face of evidence that it causes harm.
Intoxication: Though not usually counted as a measure of addiction in itself, the level of intoxication is associated with addiction and increases the personal and social damage a substance may do.